New Year in the Crimea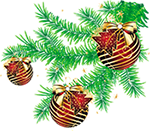 RestCrimea Travel Agency invites you to spend New Year in the Crimea.
New Year is perhaps the most vibrant holiday of the year, and it must also meet bright. We propose to celebrate New Year 2014 with us in the Crimea. The rich nature, generous and bright sun, sea, mountains, and a lot of exciting programs prepared by the Crimean health resorts, will leave for a long time in your memory a lot of bright and unforgettable memories of the New Year in the Crimea - an amazing and unique in its beauty corner of the planet!
present you the program of the meeting of the New 2014 in the Crimea.