Would you like buy a generator in Crimea on the stock, and even with free shipping , then you need an online store interskol-krym.ru Generators INTERSKOL on all types of fuel. Power "Interskol" EBG & ndash; 5500 became available, and in the Crimea. Her now you can find in the Internet & ndash; shop by clicking on the link interskol-krym.ru. With a maximum power voltage of 5.5 kW, it can run on diesel fuel or gasoline, and natural or liquefied gas well.

This model is equipped with a synchronous alternarorom that wound copper coil, as well as a socket for 12 V and two 220 V, manual and electric starter, accurate pointer voltmeter, as well as automatic control of the output voltage, which operates on the principle of feedback, so that the plant will operate more efficiently. The cost of a kilowatt & ndash; hour at a power plant using natural gas or LPG is much lower than the cost of kilowatt & ndash; h with diesel fuel.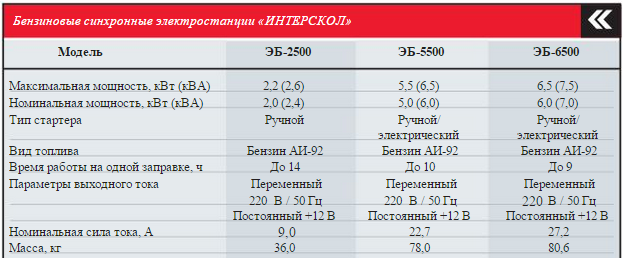 Because of this power "Interskol" EBG & ndash; 5500 is an excellent choice of an alternative source of supply to the construction site or at the cottage. To save and enable continuous operation of the plant in the cold season, the developers have also provided a presence in power forced heating gas reducer strong flow of warm air directed from the generator. For this power silfonovogo connected via a hose to a gas line, wherein the valve mechanism of the device will be able to protect against leakage of gas. Generators Interskol gasoline. Removable power generator is used to provide electricity for houses, summer houses and construction sites by converting mechanical energy into electrical energy. It should be noted that now more popular among all consumers use gasoline power plant due to its compact dimensions and sufficient power at a relatively low value of the goods.
Petrol "INTERSKOL" has three species. This model DL & ndash; 2500 EB-5500 and EB-6500 with the following output: 2.2 kW, 5.5 kW and 6.5 kW. Synchronous alternator, which is installed in these generators, no problem can withstand various types of loads that can occur when turning the power of any power. Buy petrol generator in the Crimea, you can thanks to the online store Interskol Crimea. Gasoline Generator EB-2500 is equipped with a manual starter and 2 sockets 16 A and generator DL-500 and DL & ndash; 6500 is also equipped with an electric starter with battery acid. Also all of these generators is a system overload. Also, all gasoline generators "INTERSKOL" fully compatible with the phase-dependent energy consumers. All of them can be used as a standalone power source for any automatic boilers.
Online Store Interskol Crimea http: //interskol-krym.ru
Email: office@interskol-krym.ru
+7 (978) 146-2-555